Handevision has just announced five new Iberit Full Frame E-mount lenses! They are: 24mm f/2.4 (ships later in 2016), 35mm f/2.4 (ships January 2016), 50mm f/2.4 (ships January 2016), 75mm f/2.4 (ships January 2016), 90mm f/2.4 (ships later in 2016). These five prime lenses are rumored to be quite cool and affordable around $480 and $660.
Here are specifications from Handevision: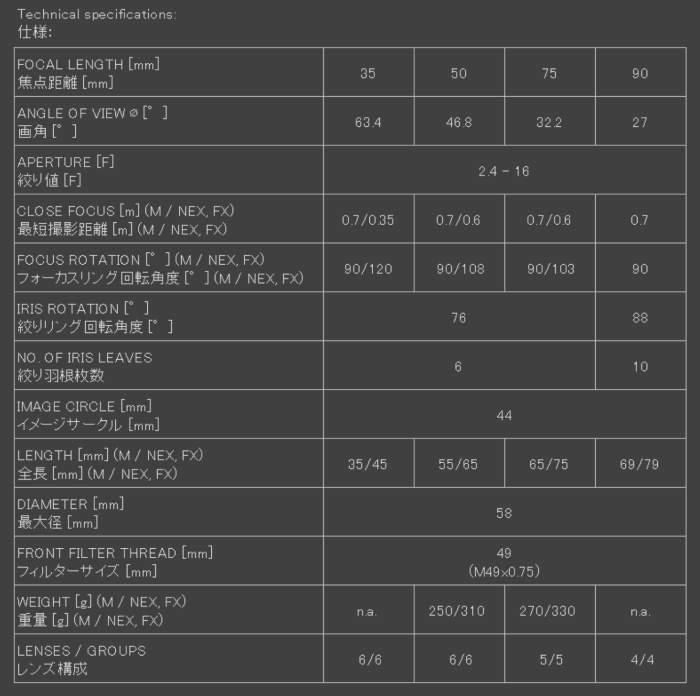 HandeVision IBERIT f2.4 / 24,35,50,75 and 90 mm announcement
HandeVision│ Germany OSD optical system development company (OSD Optic System Development GmbH) is pleased to announce a 35 mm full-size correspondence of IBERIT (Iberitto) Series.The focal length are 24mm, 35mm, 50mm, 75mm, and 90mm, available in black and silver for Sony E mount, Fujifilm X-mount, and three types of Leica M mount.
In May 2013, HandeVision announced the brightest IBELUX 40mm F0.85 as a mirrorless lens. After the development for two years, HandeVision is now  pleased to announce the new lens family "IBERIT" of the corresponding full-size long-awaited.
Compact IBERIT is an optimized lens to the mirrorless system. It is sufficiently small in a variety of shooting scenes,for portrait, landscape photography, street snap, and cut sharply the subject from the background. In addition, these lenses are compatible with both the full-size image sensors and APS-C image sensor.
Retail asking price depends on the type and the corresponding mount, but is expected to be for $480 ~ $660.